Quality matters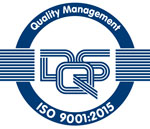 We are certified according to DIN EN ISO 9001:2015. The global quality standard is a tool to control and ensure continuous improvement of a company's performance. ISO 9001 is an internationally valid requirement for management systems in terms of quality of production, services and process development. We provide regular audits and are constantly working to improve our processes. You find our actual quality certifcate in the download area.
Outgoing goods inspection
The inspection of incoming and outgoing goods as well as regular testing on our own test rigs ensure the high quality of our products.
Safety and Health
Safety and Health have a top priority in our company. This is why we are successfully certified according to the German quality label 'Sicher mit System'. The label confirms us a systematic and effective safety management.